Coastal Ecology of the Virginian Biogegraphic Province
Primary tabs
Overview:
This dataset describes water quality and aquatic communities for estuaries, bays, and tidal rivers between Cape Cod, MA and Cape Henry, VA.
Dataset Location: Ecological Archives
Site Location: Virginian Biogeographic Province
Sites Georefferenced: No

Timespan: 1990-1993
Sampling Frequency: annually
Methods: Sampling stations (Fig. 1) were systematically randomly sampled from estuary and coastal waters. For field methods refer to Reifsteck, D. R., C. J. Strobel, and D. J. Keith. 1993. EMAP-Estuaries 1993 Virginian Province field operations and safety manual. U.S. Environmental Protection Agency, Office of Research and Development, Environmental Research Laboratory, Narragansett, Rhode Island, USA.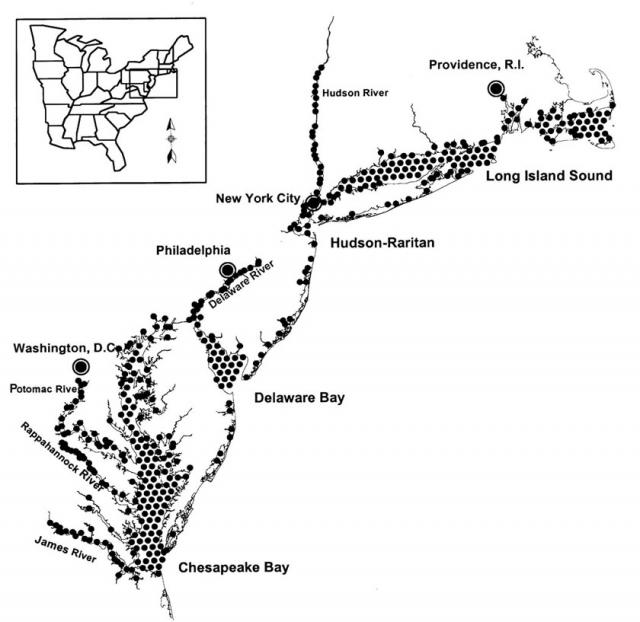 Data Collected: water quality (temperature, salinity, clarity, dissolved oxygen); contamination and toxicity of sediment; structure of bentic and fish communities; gross external pathology of fishes
Citation: Stephen S. Hale, Melissa M. Hughes, Charles J. Strobel, Henry W. Buffum, Jane L. Copeland, and John F. Paul. 2002. Coastal ecological data from the Virginian Biogeographic Province, 1990–1993. Ecology 83:2942.
Available via EcoData Retriever: No